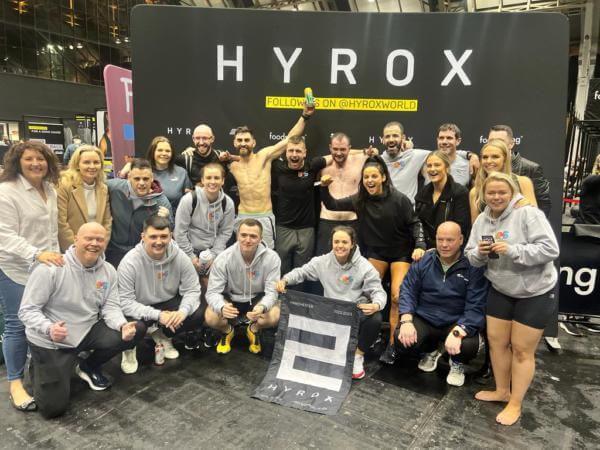 Calling all fitness enthusiasts in Ireland! Get ready to experience the ultimate Hyrox training at BMS Warehouse Gym, the country's first official Hyrox Affiliate gym. As pioneers in the Hyrox movement, we bring you a state-of-the-art facility equipped with top-notch equipment and a team of dedicated trainers who are passionate about helping you conquer the Hyrox challenge. Join our community of like-minded individuals, train in a supportive environment, and push your limits like never before. Whether you're a seasoned Hyrox athlete or new to the game, BMS Warehouse Gym is your gateway to unparalleled fitness and performance. Prepare to take your training to new heights and dominate the Hyrox races.
But what is Hyrox?
HYROX is a worldwide fitness race for everybody: with 4 different racing categories to choose from, HYROX is accessible for everyone no matter what level.  Take part as a team and split the work, or test yourself as an individual.
Who can compete in Hyrox?
52% of gym members now cite Fitness as their sport: Fitness is the largest sport in the world and HYROX is the first mass participation event that gives everyday gym-goers their own race to train for.
What is in a Hyrox Race?
Athletes compete in the exact same race all around the world: starting with a 1km run, followed by 1 functional movement, repeated 8 times.
How do I rank in Hyrox?
Participants can compare Global Rankings: all participants wear a timing chip and receive official finishing times, with comparable results through HYROX's global rankings across all events.
Is Hyrox only in Ireland?
HYROX hosts events in many countries, and culminates at the end of the season with the World Championships: the fastest 15 times from each division in each city go head-to-head on the world stage to represent their country.
How is Hyrox a Sport?
HYROX fills an untapped gap: the first event to bridge the gap between traditional endurance races with functional fitness, to create a race format for everybody with a unique repeatable, measurable and trainable concept.
Where did Hyrox begin?
Born from world-class industry veterans: created by one of the most experienced and successful mass participation race event organisers in the world, Christian Toetzke, together with x3 Olympic Medallist and World Champion, Moritz Furste.
We are Ireland's first Hyrox Affiliate Gym!
We are now taking Hyrox to you! Get your UK and Ireland event discounts using our code BMS-WH-GYM-10
                                   Get Started Below
Ready to Train?
Here is what we offer!